Leave The Billing to Us & Keep Your Costs Down!
Don't put up with the cost and the nightmare of taking care of your own billing and practice management issues. We'll help you navigate the ongoing changes in healthcare insurance so you can focus on your patients & practice. We'll set up your PQRS for FREE to receive your full benefits.We'll also help you with your coding and credential needs.

Voted Best Medical Billing Company of 2018 By Plantation Awards!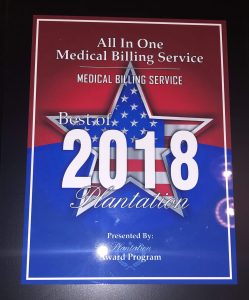 • Get timely reimbursements—billing goes out in 24
hours once received
• Avoid the mistakes that can lead to denials
• Reduce your overhead & personnel costs
• Boost your bottom line
"I've relied on them for over 4 years for professional and efficient services. They consistently exceed my expectations." — R. Patel, MD, Tallahassee
I want to setup my service for FREE today!
Call 954-607-6157 to learn more about our medical billing services!